Trade takes a wallop
Combined Greek exports and imports in May were lowest since 2016
Greece's external trade in goods plunged in May, with imports and exports both falling the most since before 2005, which is as far back as Elstat data goes.
Before the pandemic struck, it had taken a decade for Greece's trade in goods to recover to pre-financial crisis volumes. But the mix of imports and exports last year was less lopsidedly tilted towards the former than it was in 2008. The questions now are how much further trade will fall, and how that mix will be affected.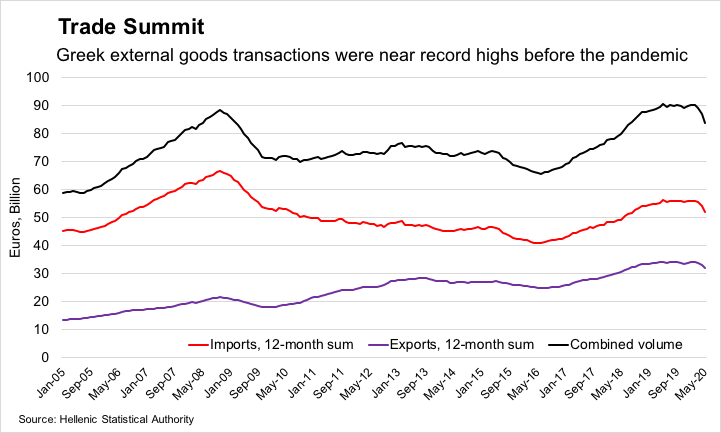 The 39 percent drop in imports in May, and 32.7 percent export contraction, surpassed anything seen during the global recession of 2009 or after Greece introduced capital controls in 2015. The drop was compounded by the base effect — trade volume was at a record high in the same month of last year — but combined exports and imports still hit their lowest in May since 2016.
The drop in exports excluding oil products was only 12.7 percent. In the past decade, these have become an important part of Greece's export mix as refiners have upgraded capacity and directed production towards overseas markets in the face of depressed demand at home. Oil products had less of an impact on imports, which dropped 26.2 percent without them.
---
Gloomy summer forecasts
The European Commission no longer expects the Greek economy to contract the most in the European Union this year. Sadly, this is mostly because it's grown more pessimistic about the rest of the EU.
The Commission forecasts that Greece's gross domestic product will shrink 9 percent this year, revised from a previous forecast of 9.7 percent. Set against that, it now expects GDP to recover only 6 percent next year, instead of 7.9 percent.
Even if the Commission had kept this year's forecast for Greece unchanged, it now expects GDP to fall more than 9.7 percent in Italy, Spain, France, Portugal and Croatia.
Overall, the Commission's worsening expectations for the rest of Europe, published today in its summer forecasts, now leaves Greece fairly close — though still slightly below — the euro-area average.
---
I'd love to get your thoughts and feedback, either in the comments, on Twitter or by reply if you received the newsletter by email. If you'd like to read more posts like this, consider subscribing to the newsletter.