Springtime for Greece meant closed companies
Elstat data show the extent of the losses for businesses as the lockdown took effect
Greece's statistics agency Elstat is having a good crisis, producing timely data to help us get a handle on how coronavirus is impacting the economy.
Its chief innovation is a monthly release showing the hit to companies' turnover. So we know that revenue for all Greek companies fell 2.9 percent in the first quarter compared with the same period of 2019, and that 206,000 companies had to suspend operations. That's 15 percent of the total.
For most Greek companies the data available right now only runs to March. But larger companies, which account for about 85 percent of overall turnover, are required to submit information monthly. These companies showed a 32 percent drop in revenue in April, the most recent month available, compared with 2019. For the ones that suspended operations the drop was 80 percent.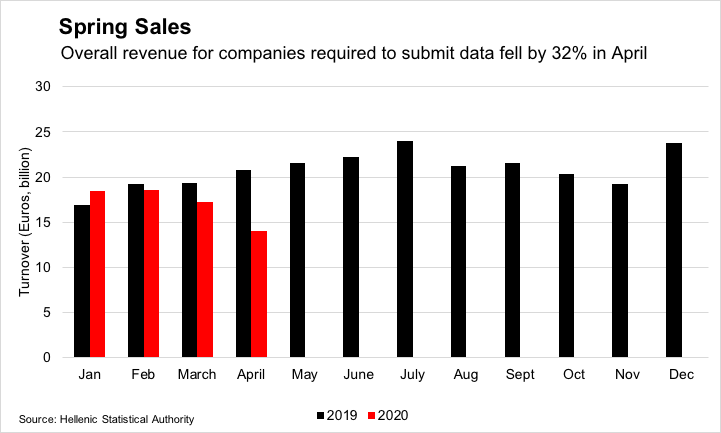 In Wednesday's newsletter, we noted that the fiscal cost to the central government of the coronavirus through to the end of May was about 5 billion euros. The scale of the hole in the economy that deficit has to plug becomes apparent when we see that for larger companies revenue dropped by 8.8 billion euros in March and April alone.
There's a lot of interesting detail in the release, so it's one this newsletter is likely to come back to. But I'll leave off with a chart showing which sectors saw the biggest drops in revenue in April (only counting ones with a turnover of 300 million euros or more in April 2019).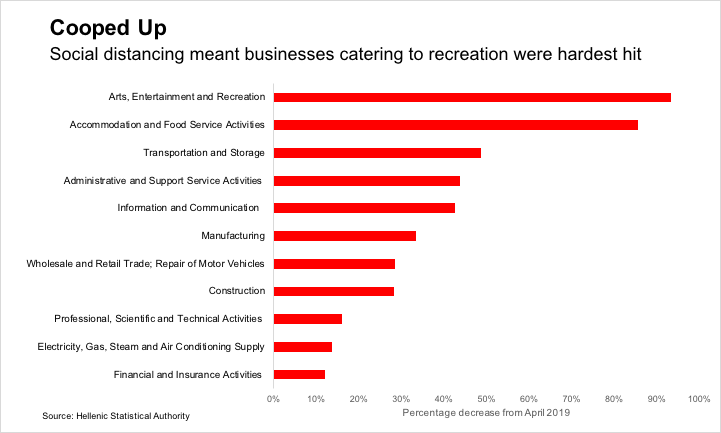 ---
Elsewhere on the web
---
I'd love to get your thoughts and feedback in the comments or on Twitter. If you'd like to read more posts like this, consider subscribing to the newsletter.