Macro roundup: Support measures run up against limits
Government spending is failing to keep up with demand to fill the hole in the economy
Several indicators this week showed up the urgent need for the government to step up its support for the economy.
The data backs up the story emerging from reports in recent weeks: that the government's liquidity support measures so far haven't been enough to meet a surge in demand for credit from small and medium-sized enterprises.
Much of the government's liquidity support for SMEs is channeled through its Public Investment Budget. The Finance Ministry's budget execution bulletin showed that the pace of overspending fell off in June — 618 million euros, compared with 1.5 billion euros in May — indicating less support for crisis-hit businesses.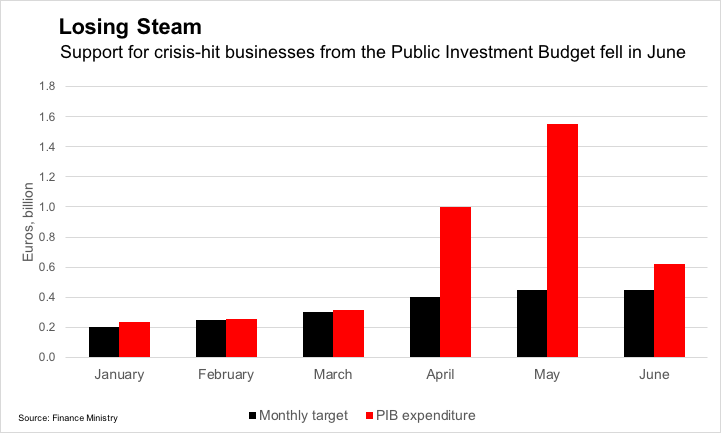 Since the government's support for the economy isn't only channelled through subsidising SME credit access, the overall size of the government's primary budget shortfall is a reasonable proxy for the fiscal support provided so far. The year-to-date primary deficit in June — which doesn't include debt service costs — was 5.9 billion euros compared with a target surplus of 313 million euros.
Set against that, we have the latest update from the Hellenic Statistical Authority on business revenue this year. For companies that are obliged to submit double-entry accounts, which account for about 85 percent of total revenue, there was a 5.8 billion-euro fall in revenue in May alone compared with the same month in 2019. That's on top of the 8.8 billion-euro hole in March and April.
Liquidity conditions
We noted last month that total bank credit to the private sector continued to expand in May — welcome news that monetary conditions weren't exacerbating the crisis. This development came with important caveats that the overall aggregates can't tell us if liquidity is getting to all the parts of the economy that it needs to.
That's where the Bank of Greece's bank lending survey comes in handy, as it provides some useful additional qualitative insights about the supply and demand for credit.
So while the central bank's data shows that lending to households and non-profit institutions dropped 2.8 percent in May, the lending survey indicates that this was due to a drop in demand for loans in the second quarter — unsurprising given that households rarely want to take on more risk at times of economic uncertainty.
Unfortunately, the lending survey also confirms that the 1.7 percent contraction in lending to SMEs in May came despite a sharp increase in demand, mostly needed to finance working capital and inventory. Given the government's role in backstopping bank lending to SMEs during this crisis, the lending survey is another data point suggesting that more funds need to become available.
Without further measures, this picture is likely to get worse over the summer. Despite the government's heavy gamble in trying to salvage what it can from this year's tourist season, the early indications are that their efforts won't amount to much.
---
Next week's key data
Tuesday:
Bank of Greece releases May's Balance of Payments data
Wednesday:
Bank of Greece releases data on visitor arrivals in May
Thursday:
Elstat releases first-quarter debt and deficit numbers for the general government
Friday:
Elstat releases first-quarter non-financial accounts for institutional sectors
---
Elsewhere on the web
---
If you enjoyed this post, consider sharing it with someone else you think might like it. I'd love to get your thoughts and feedback, either in the comments, on Twitter or by reply if you received the newsletter by email.