Macro roundup: Summer state of mind
Campaign to salvage Greece's tourism season failed to avert slump in revenue
Once the coronavirus pandemic struck Europe, it was obvious that tourism would take a major hit. And now summer has drawn to a close, it's clear that a campaign to try to salvage something from the season failed to avert a wipe out.
The Bank of Greece released balance of payment data this week that showed travel receipts in July dropped 84 percent in the month from a year earlier. Although the collapse in spring had been total, that was in the off season. July and August were always going to be critical, accounting for 43 percent of year-round revenue in 2019.
The Greek Tourism Confederation, an industry body, this week forecast that revenue this year would come in at a paltry 3 billion euros, compared with a record 18.2 billion euros last year. Even this new forecast would mean limiting the drop in revenue in August and the remainder of the year to 81 percent, slightly less than July's collapse.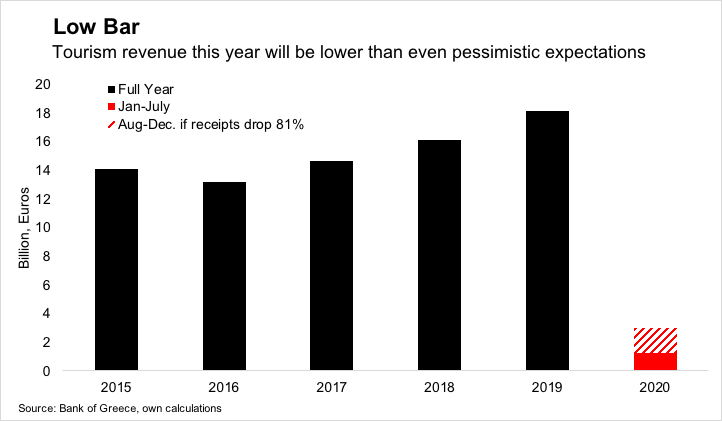 Overall, the collapse contributed to Greece posting its first current account deficit for July since 2011. The cumulative deficit for the first seven months of 2020 was 7.9 billion euros, compared with 2.7 billion a year earlier.
---
Monetary support
While tourism and the economy come under strain, continued monetary expansion and government-subsidised lending is helping to stave off a cascade of bankruptcies.
Tourist enterprises, in need of working capital support, borrowed an additional 446 million in July and August, bringing the expansion of credit to the sector to 9.8 percent in August compared with a year earlier. Credit to the private sector as a whole expanded an annual 1.9 percent in August, up from 1.5 percent in July.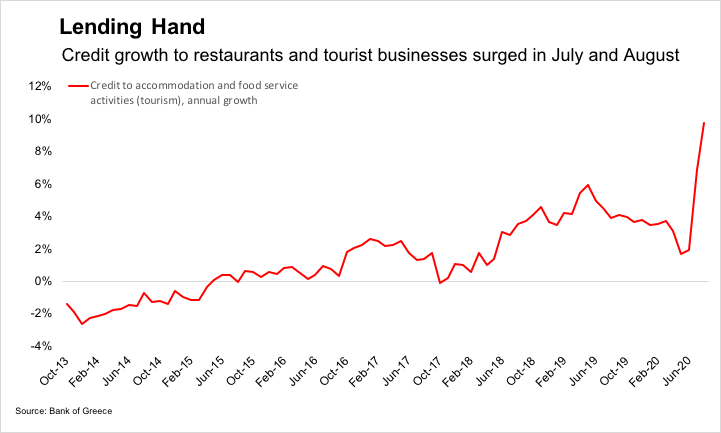 This support is also helping the asset side of private sector balance sheets. Household and business deposits rose for a seventh straight month to 151.9 billion euros.
---
Stable funding
Following the links up the monetary transmission change, Greek banks are able to provide this liquidity support after benefiting from the European Central Bank's extraordinary stimulus measures, which kept the country's funding conditions stable.
After surging early in the crisis, the commercial banks' utilisation of the ECB's repo operations has been unchanged since June at 36.8 billion euros.
Almost all of this is from the Targeted Longer-Term Refinancing Operations program, where banks borrow for three years at negative interest rates, and for their part have to meet benchmarks for lending to the real economy.
Meanwhile, the Bank of Greece's TARGET2 deficit with the rest of the Eurosystem is also stabilising, increasing just 1.8 billion euros in August.
---
Safe haven
The current recession may have taken some of steam out of the recovery from the real estate sector, but apartment prices still rose 4.1 percent in the second quarter from a year earlier. Combined with solid recent construction indicators, it suggests confidence in the sector remains robust.
---
If you're enjoying this newsletter, consider sharing it with others who might also like it.
---
Next week's key data
Tuesday:
September economic sentiment indicator (European Commission)
Wednesday:
July retail sales (Elstat)
---
Elsewhere on the web
---
I'd love to get your thoughts and feedback, either in the comments, on Twitter or by reply if you received the newsletter by email. If you're not subscribed yet, consider doing so now.