Macro roundup: Record contraction
GDP collapsed in second quarter; speed of rebound will be critical
So we now know that the cost in gross domestic product of locking down an economy for three months is about 15 percent.
That was the size of the drop the euro area as a whole in the second quarter, and at 15.2 percent, Greece's contraction was very close to that. The collapse was bigger than in any single quarter throughout Greece's debt crisis and economic depression.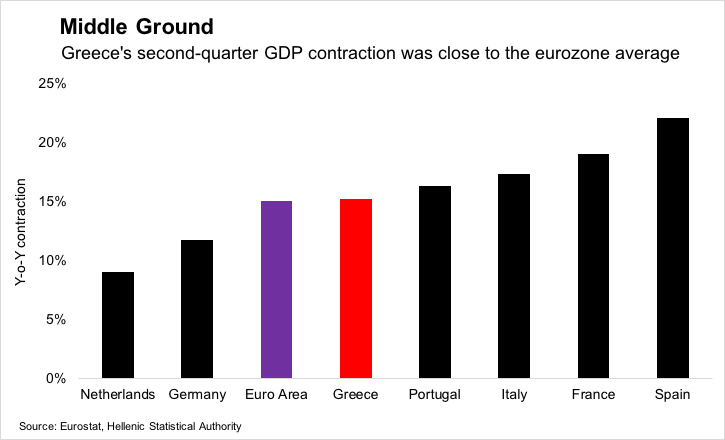 The truth is that terrible as those numbers are, it could have been worse — and it was worse during the last crisis. It doesn't bear thinking about what lasting economic damage might have been done if fiscal and monetary policy didn't both expand to cushion the collapse in economic activity.
The bad news is that it's still not too late for things to get worse.
In the short term, it's likely that in the third quarter Greece's contraction will start becoming deeper than the European average as the numbers will include the peak of the tourist season. In the longer term, the dangers include the government getting cold feet over its growing budget deficit and tightening policy prematurely.
Then there's the poor structural shape and general health of the economy going into this crisis. If tourism doesn't fully recover next year, new export sectors won't have cropped up in that time to make up for the lost revenue.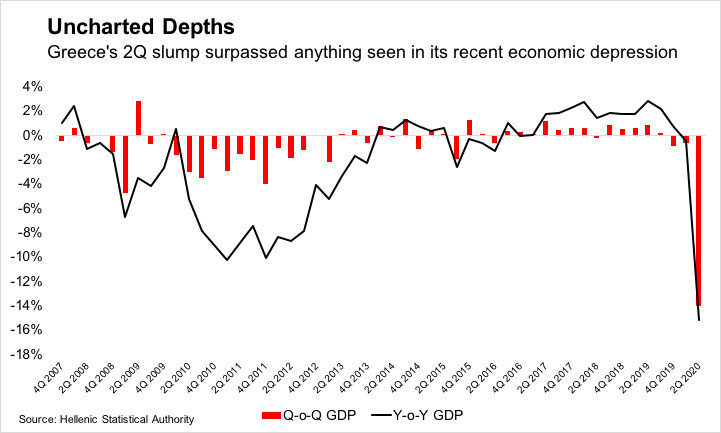 Over the next few quarters we should see GDP continue to fall sharply year-on-year, while it rebounds on quarterly basis from the unique shock it suffered during the lockdown.
What happens after that is the big worry.
---
Retail Sales, PMI
In a roundup of other macroeconomic data this week, retail sales dropped 6.9 percent in June, while the IHS Markit's Purchasing Managers' Index for Greece improved slightly in August but remained at a level signalling a small contraction.
The fall in retail sales was mostly driven by a 29.9 percent drop in automotive fuel (partly because it was cheaper; volume dropped 19.3 percent). Meanwhile, as more shops reopened in June, pent-up demand for consumer durables rebounded with a vengeance. Sales of furniture, electrical and household equipment surged 25.9 percent.
---
Out of the Traps
Over the summer, I've noted a few times that the government has been too cautious in issuing new bonds, and referred to Chris Marsh's argument that for Greece, debt management is macroeconomic management.
As such, with people now back from their August vacations it was encouraging to see the Public Debt Management Agency waste no time in reopening June's 10-year bond issue, raising a further 2.5 billion euros to bring its total size to 5.5 billion euros. The yield was 1.2 percent, compared with 1.5 percent when it sold in June.
Hopefully this sale will be the first of many over the coming period.
---
If you're enjoying this newsletter, consider sharing it with others who might also like it.
---
Next week's key data
Monday:
July external trade (Elstat)
Wednesday:
July industrial production (Elstat)
Thursday:
June unemployment (Elstat)

August consumer price index (Elstat)
Friday:
Second-quarter wage cost index (Elstat)

June building activity survey (Elstat)
---
Elsewhere on the web
---
I'd love to get your thoughts and feedback, either in the comments, on Twitter or by reply if you received the newsletter by email. If you're not subscribed yet, consider doing so now.