Macro roundup: Lockdown thrift masks size of hit to incomes
Greece's savings rate surged in the second quarter as consumption collapsed
Throughout the lockdown in spring, we saw household deposits at Greek banks growing month after month, even as unemployment surged and businesses had to suspend their operations. The assumption was that this must be explained by consumption collapsing even more than incomes.
Elstat released data last week confirming this assumption, with an 8.1 percent drop in Greeks' disposable income from a year earlier being the largest since 2014, when the country was still in the throes of its debt crisis. Yet that fall was masked by a 12.7 percent drop in final consumption.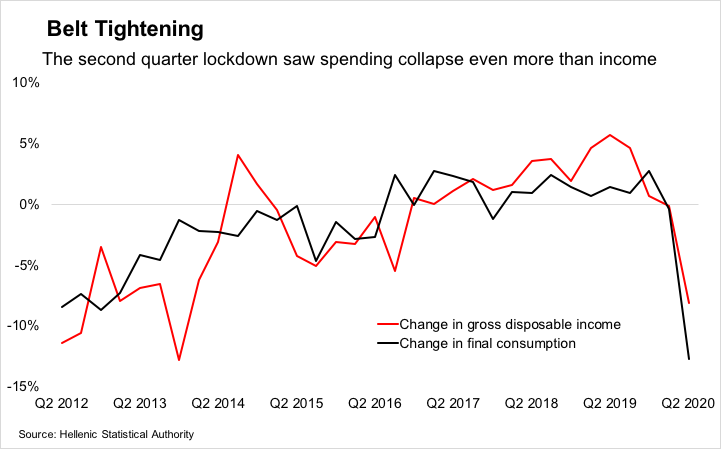 As a result, the household savings rate surged to 5.9 percent in the second quarter, its highest in 11 years.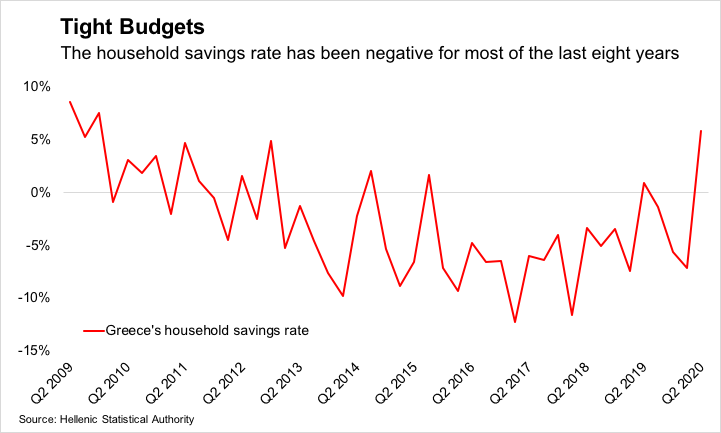 With businesses now reopened, but the income squeeze likely to linger for longer, the elevated savings rate should prove to be a just a blip.
Still, Bank of Greece data showed private sector deposits rising for an eighth straight month in September. Deposit inflows for the household sector amounted to 1.1 billion euros in the third quarter, compared with a 1.9 billion-euro inflow in the second.
---
Bank Lending
Banks have kept up their expansion of lending to the private sector, with credit growing an annual 2.4 percent in September compared with 1.9 percent the previous month.
The Bank of Greece also released its quarterly bank lending survey, taking a qualitative look at credit conditions. Lenders surveyed reported an increased demand for borrowing from households in the third quarter, as well as from corporations, which already needed increased financing for working capital and inventories.
From the central bank: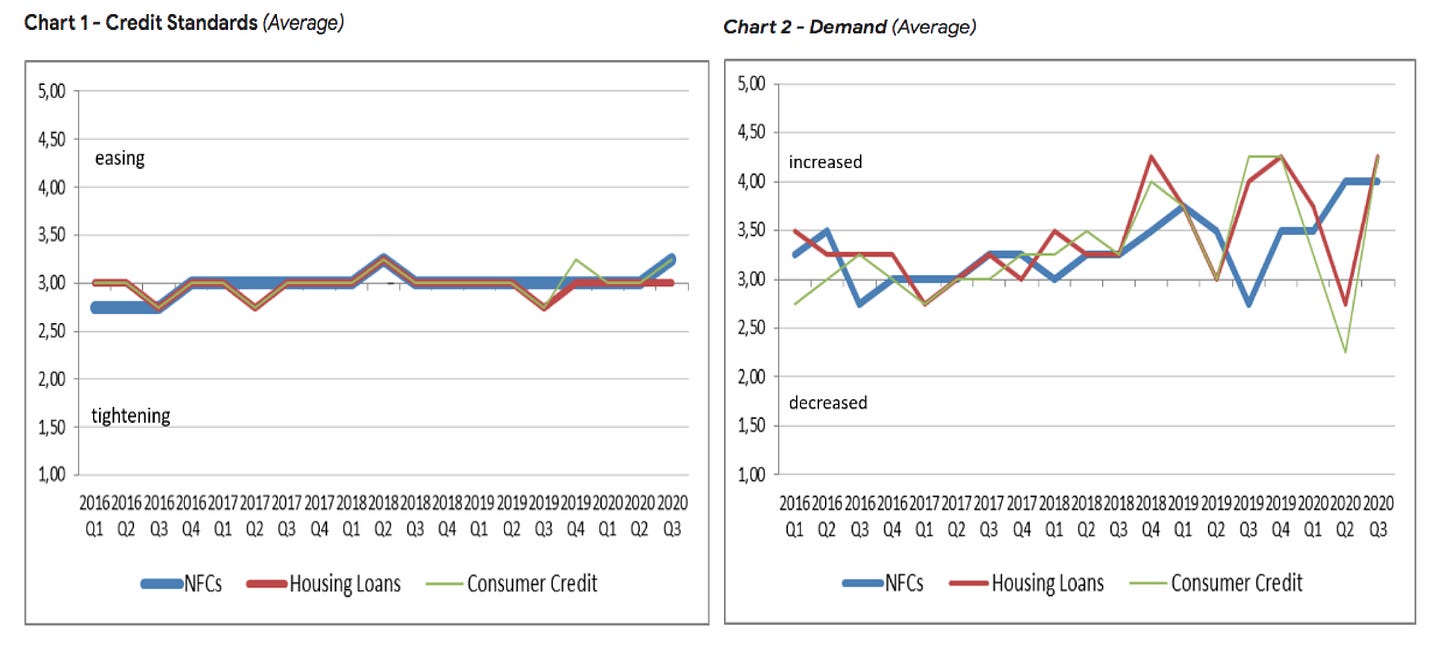 ---
Traffic accidents
Regular readers will know that I've kept an eye on figures for road traffic accidents since the lockdown, as a slightly macabre proxy indicator for how much people are moving about relative to last year's baseline.
The numbers for August show that accidents decreased 10 percent compared with a year earlier, enough to suggest a continuing impact from the pandemic.
However, in Attica — the region that includes Athens — accidents increased 4 percent, which on its face would suggest a return to normal levels of activity. That's in a month when the capital is usually quiet anyway, and the increase in accidents could be a result of fewer Greeks going on holiday this year. The country's second city, Thessaloniki, also saw an increase. By contrast, parts of the country popular for tourism saw large drops in accidents, like the islands of the north Aegean, where they were down 67.9 percent.
To some extent, the fact that the numbers are quite small in absolute terms is responsible for high degree of variability in the geographical breakdown — seven fewer accidents led to a 33.3 percent drop in Crete. But the numbers now seem to be telling us more about the struggles of the tourist sector this year than they about people staying in their apartments under quarantine.
---
Other data
We have two weeks worth of data to cover in the roundup today, since the newsletter couldn't go out last week.
---
If you're enjoying this newsletter, consider sharing it with others who might also like it.
---
Next week's key data
Monday:
October PMI survey (IHS Markit)
Thursday:
August unemployment data (Elstat)
Friday:
September import and export of goods (Elstat)
---
Elsewhere on the web
---
I'd love to get your thoughts and feedback, either in the comments, on Twitter or by reply if you received the newsletter by email. If you're not subscribed yet, consider doing so now.