Macro roundup: Jobless surge rings alarms
But trend in inactivity suggests "shadow unemployment" may have levelled off
A rising unemployment rate was something we were braced for from the moment controlling the coronavirus pandemic meant shutting down swathes of the economy. Yet the speed with which the rate is increasing is still a shock.
The jobless rate rose to 18.3 percent in June, bringing the increase since February and the onset of the pandemic to 2.3 percentage points, according to data released by the Hellenic Statistical Authority this week.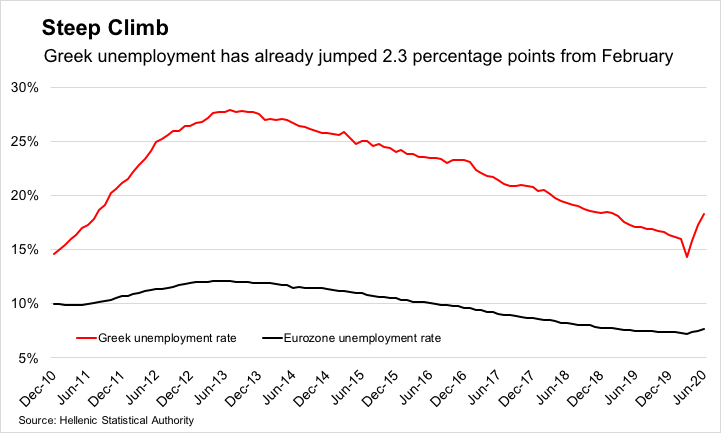 The speed with which jobs are disappearing surpass anything seen during the debt crisis. And these headline figures understate the extent of the increase, since furloughed workers who have had their contracts suspended are counted as inactive instead unemployed, even though many won't have jobs to return to.
In June there were 109,000 more inactive workers than there were in the same month of 2019. If we reclassify 80 percent of them as unemployed instead, the resultant "shadow" jobless rate was 19.8 percent.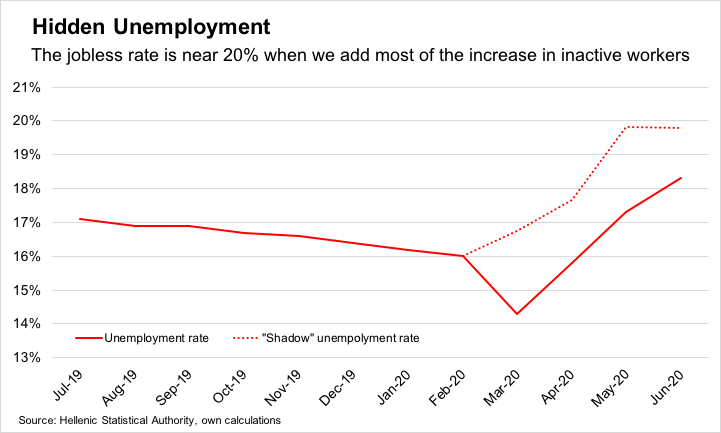 The one silver lining for Greece is that when we look at the trend in this shadow rate, we see that most of the rise in June's headline unemployment rate was down to the reduction of inactive workers, as furlough schemes wind down. The number of inactive workers in June dropped by 72,000 from May as unemployment rose by 58,000. Employment actually increased for the first time since January, by 12,000 jobs.
Put these together, and our "shadow" unemployment rate for June was actually unchanged from May. This dangles the prospect of an optimistic scenario where the increase in unemployment has actually peaked already, despite the steep rise in the headline rate.
Still, given how long it took for unemployment to come down last time it was at 20 percent, this spike is hard to bear for country that entered this crisis with a much higher jobless rate than its European peers.
---
Building recovery
One sector that appears to be riding the current crisis with relative ease is construction, where there was a 17 percent increase in the number of building permits issued in June compared with a year earlier. Building activity increased 16.6 percent in the first six months of the year.
Construction took a particular battering during the debt crisis. Its current resilience could be because it's recovering from a very low base, as can be seen in this chart from the Elstat release.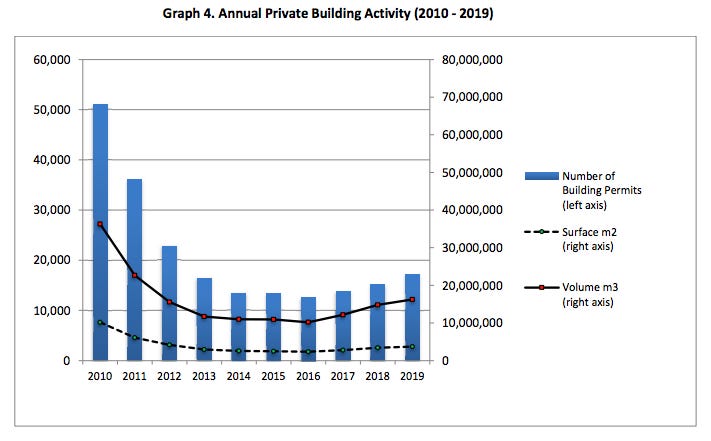 Nevertheless, following a dip in permits issued during the lockdown, the building activity survey is confirming a trend seen in economic sentiment data indicating that construction could be one sector that enjoys a v-shaped recovery. For now.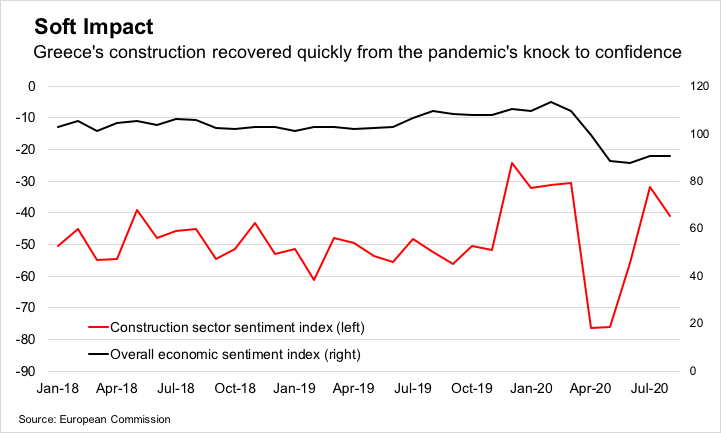 ---
Other data
Consumer prices are diving into ever-deeper deflation. Prices dropped 2.3 percent in June from a year earlier, while in the rest of the euro area they fell 0.2 percent.
Industrial production fell 0.2 percent in July from a year earlier, due to a 1.7 percent drop in electricity supply. Manufacturing had a marginal increase of 0.04 percent.
---
If you're enjoying this newsletter, consider sharing it with others who might also like it.
---
Next week's key data
Tuesday:
Probable date of release of Jan.-Sept. budget execution data (Finance Ministry)
Wednesday:
Second-quarter statistics on loans serviced by credit servicing firms (Bank of Greece)
Thursday:
Second-quarter unemployment (Elstat)

June data on business revenue (Elstat)
---
Elsewhere on the web
Greece is about to spend lots of money. On fighter planes and frigates.

The construction sector may be riding out this crisis better than most, but change is afoot in the property market. The Greek Guru surveys what's happening with rents in Athens.
---
I'd love to get your thoughts and feedback, either in the comments, on Twitter or by reply if you received the newsletter by email. If you're not subscribed yet, consider doing so now.