Macro roundup: It's bad for business
Companies didn't close the gap with 2019 revenue by much over the summer
The latest data from Elstat on Greek businesses' revenue show that the pandemic is continuing to take a heavy toll on private sector activity.
For companies required to submit information monthly, which account for about 85 percent of the total, revenue fell 20.1 percent in August from the same month a year earlier, compared with a 17.5 percent drop in July. For the sectors most impacted by the pandemic — those that had to suspend operations during the lockdown — revenue fell 36.8 percent in August.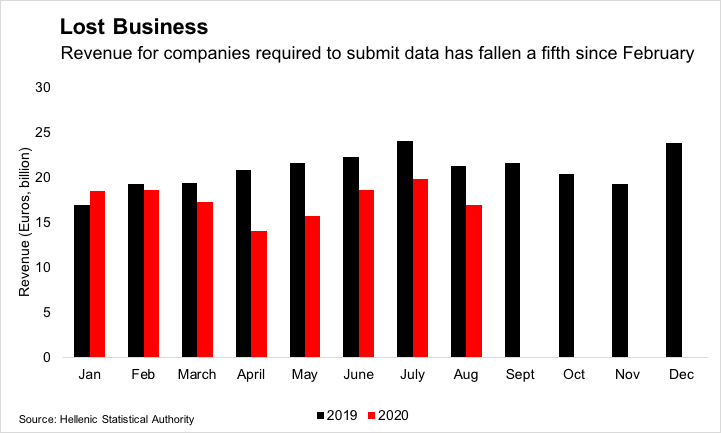 The performance over the summer shows that despite an initial improvement when lockdown restrictions eased, companies didn't get much further in closing the gap on last year. The impact of the lost tourism season was felt in accommodation and food services, where revenue was still less than half its 2019 level in August.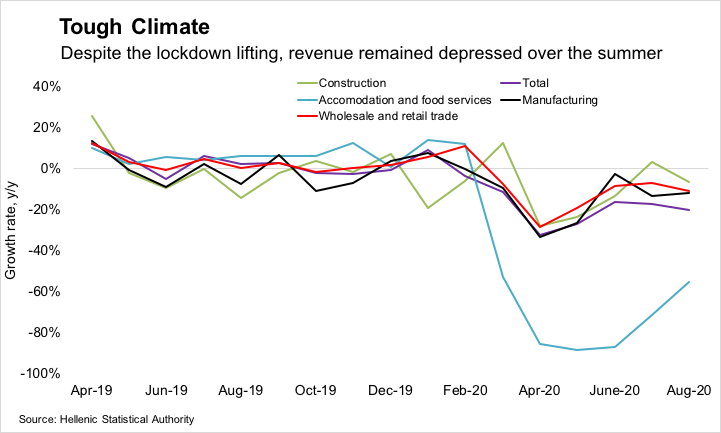 So far this year, including the period before the lockdown, companies required to submit monthly data have lost 26 billion euros of revenue compared to the year before — a drop of 15.7 percent.
---
Other data
Building activity in Greece, as measured by number of permits issued, increased 12 percent in July from the same month a year earlier. For January to July, it increased 15.9 percent compared with 2019.

Preliminary data show the central government's primary budget deficit for the first nine months of the year stood at 7 billion euros, with the deficit for September the most in four months at 1.5 billion euros.
---
If you're enjoying this newsletter, consider sharing it with others who might also like it.
---
Next week's key data
Wednesday:
August balance of payments data (Bank of Greece)
Friday:
Second-quarter non-financial accounts of general government and institutional sectors (Elstat)
---
Elsewhere on the web
---
I'd love to get your thoughts and feedback, either in the comments, on Twitter or by reply if you received the newsletter by email. If you're not subscribed yet, consider doing so now.