Macro roundup: External woes
A bad first half of the year for Greece's current account is set to get worse
The deterioration in Greece's current account balance is proceeding at a pace that suggests the final number for this year could be pretty ugly.
The deficit for the first half of the year was 7 billion euros, the most since 2011 and an increase from 4.1 billion euros in the first half of 2019, according to Bank of Greece data released this week. While that's already a weak springboard for the second half of the year, the picture is likely to deteriorate further in the third quarter, when the collapse in tourist revenue will be most keenly felt.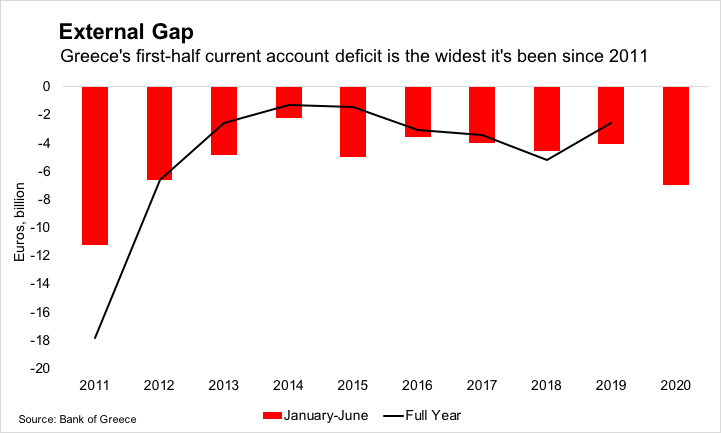 The IMF yesterday published a blog where it ranks Greece as the second-most-impacted country from tourism losses after Thailand. The fund estimates that the overall impact on the current account balance will be about 6 percent of gross domestic product, with a hit to exports of about 8 percent being partially offset by reduced imports.
That assessment sounds about right given the sector's performance this year. Whatever the rights or wrongs of the government's decision to gamble on a marketing campaign to salvage what it could from this year's tourist season, all the indications are that it's failed to bring in the number of visitors intended.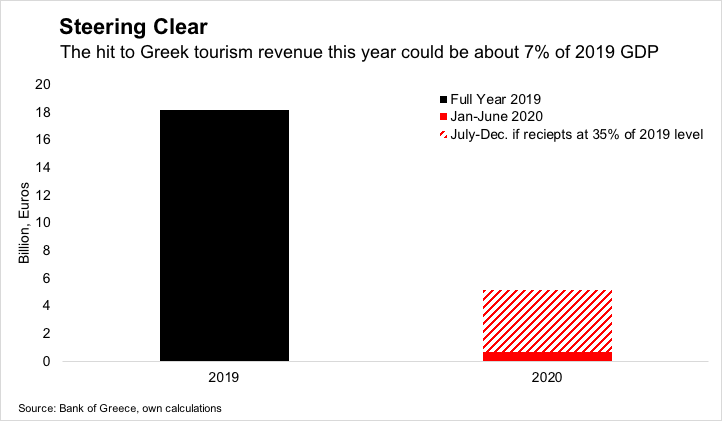 If drop in travel receipts in the second half of this year is restricted to 65 percent of last year's level — an optimistic assumption — then the drop from 2019's record high would amount to about 13 billion euros, or 7 percent of last year's GDP.
---
Next week's key data
Thursday:
Bank of Greece releases data on bank lending and deposits in July
Friday:
European Commission releases the economic sentiment indicator for August
---
Elsewhere on the web
Georgia Nakou, writing at MacroPolis, chronicles Greece's post-lockdown hubris

Here's a nice Twitter thread on Tsakonika, which is spoken in rural communities on the eastern coast of Arcadia

Nikkei Asian Reveiw has a feature on the the Golden Visa program
---
If you enjoyed this post, maybe share it with someone else you think might like it. I'd love to get your thoughts and feedback, either in the comments, on Twitter or by reply if you received the newsletter by email. If you're not subscribed yet, consider doing so now.