It took a pandemic for Greece to spend its investment budget
And even then it wasn't really about investment
One of the most exasperating things watching the Greek economy in recent years is seeing governments fail to spend all the money they budgeted for public investment.
We bemoan austerity, then pass up on funds that Greece's creditors already approved, which could build out modern infrastructure or nurture fledgling export industries. Even worse, much of it is paid for from European Union structural funds that don't add to the country's public debt, so it really is like leaving money on the table.
Critics of the last, Syriza-led government often accused them of doing this deliberately to hit bailout targets ahead of schedule. This, so the argument goes, freed up funds for Alexis Tsipras to give away to pensioners and other voters in Christmas bonuses.
A likelier explanation — one given credence in the European Commission's last health check on post-bailout Greece — is that the inability to spend the money represents just another example of weak state capacity. In particular, there's an urgent need to come up with an actual pipeline of projects that the budget can be used on.
So when the Finance Ministry released its monthly update on the central government's budget execution on Monday, it might have seemed encouraging to see spending from the Public Investment Budget overshoot its January-to-May target by 1.8 billion euros.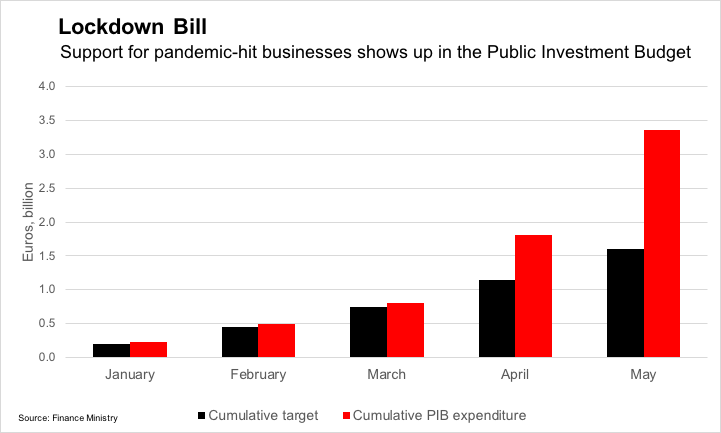 Sadly, the reason for this overspend has little to do with actual investment. Instead, a portion of the government's emergency economic response to the coronavirus is allocated through the investment budget, including most of its liquidity support to businesses that have been hit hard.
Overall, the budget for the first five months of the year showed a deficit close to 5 billion euros, before accounting for interest expenditure, including a 2.2 billion-euro shortfall in tax receipts. Since the primary budget was supposed to be in balance now, that makes it fair to say that 5 billion euros is how much the pandemic has cost the government so far.
That's hardly massive compared to measures taken in other countries. Still, after years of cutting budgets during a recession, there's something nice about watching automatic fiscal stabilisers being allowed to do what they're supposed to do.
---
I'd love to get your thoughts and feedback in the comments or on Twitter. If you'd like to read more posts like this, consider subscribing to the newsletter.